Guestbook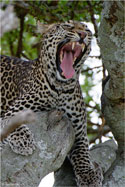 Here at BIG CATS EXPLORATION AND SAFARIS We value our clients more and we are pleased for every guest to book with us. Therefore we have listed a number of comments in this Guest book from various clients who made safaris with us. We are looking forward to get comments from friendly clients in that guest book formular for every entry to fill and send back to us.
Where did you hear about us?
Internet
Hi Felix, Louis and Charlie,Thank you for an absolutely great safari last month (Nov 2013). We felt we were in the hands of real professionals and were taken to all the best places in Ngorongoro, Serengeti, Lake Manyara and Amboseli parks. We saw over 50 species of game including lion, cheetah, rhino, elephant, hippo, buffalo and even caight a glimpse of a leopard! The big 5 plus two! There were innumerable others and birds galore! We were fortunate to have Felix with us and 'Eagle-Eye Louis' as driver - both could spot game invisible to us until they were pointed out. The standard of accommodation was excellent and the attention to details was really good. I can recommend these guys for any adventure in Tanzania or Kenya - a truly memorable trip.
Tom & Agi Ryan
Croatia and UK.
12/8/2013
Hi ,everybody
Me and my fiancee booked 3 days flight package from Diani Beach to Masai Mara.We choose Big cats exploration safaris because our friends recommend us.We spent two nights at Ashnil Mara Camp.The camp was excellent,all staffs are very friendly,We saw big five and the Migration.We very happy about the safari and the Company.I would like to thanks Mr.Felix for his assistance and experience. We enjoyed alot and we would like to Thanks the team too
Thanks
Thiery/Alice
Belgium
1st Feb.2012
Hello,
Me and my husband were on holiday in Kenya. We booked our Kilimanjaro Safari with :BIG CATS EXPLORATION SAFARIS. The Safari was wonderful. We saw the Big Five including a lot of Lions, Leopards, Cheetahs etc. It was very very nice. We thank Felix, our Safari organizer and Papa Charly our driver/guide. We still remember and hope to come back in Kenya for a nice Holiday. Thanks
Nadia/Harry
From UK
28th Feb .2012
Ciao Tutti,
Our safari was good and we were happy to book with with this Agency called:Big cats .It was amazing and still we have some stories to tell our friends.We spent our overnight at Lions hills Camp (Milima ya Simba) set on a hills in Tsavo east national park.For sure we saw alot of animals.Our dreams was to see a lion killing,only we saw them feeding carcas of Buffalo.We recommend the Big cats exploration safaris,especially Felix who organised our two days safaris and Papa Charley the Driver/Guide.We Thank them and give them all my best wishes
Daniella/Francessco
Milano Italy
3rd March 2012
Hi Big cats Team,
My names are Marion from Berlin Germany.We made our Fantastic safari with Big cats exploration safaris.We were five people and we booked this safari as friends.The safaris was for seven days 6 nights from Nairobi and end to the Beach hotel at Baobab Resort.It was amazing and unbelievable because we saw alot of animals , we use Jeep 4x4 .lake nakuru national park was the real paradise of thousands and millions of Flamingoes and pelicans,and not even to mention the nice landscapes and Kilimanjaro.The hotels were excellent and all the staffs were good and friendly.As it was our first time in Africa -kenya ,we took small excursions:Boat ride in Lake Naivasha,Hot Air Balloon safari in masai mara and we visited masai Villages too.The endless plains in masai mara was very amazing and magical land that i couldnt believe .We booked this safari in Germany by Alex .It was very wounderful ever in my life.We say thanks alot;Papa Charley and the Team.He was a good driver with alot of experience,i couldnt imagine that one can drive and the same time showing us some animals.We spent our holiday in kenya with a great joy.
Many thanks
Marion,Rainer,Heiko,Renate& Uschii
Berlin- Germany
28th March
Greetings from Barcelona Spain,
How are you doing BIG CATS EXPLORATION SAFARIS Team?Do you remember me guys my ladies and gents? I am Carolina from Spain.I booked my beach Holiday for 7 days and 12 days safari with you.The safaris was perfect,i couldnt believe my eyes as i was alone and i paid somehow more because i was alone .It was real adventure for me.My photographing experience was more more than because of having a proffessional Driver/ guide JAMES.He stopped frequently due to shootings and giving me more chance.I was very happy with the Company organization and i will be back again.I wish Felix and his team all the best.
Carolina
Barcelona -Spain
14th April 2012
Jambo Safari Team,
Hoffe ich alles gut bei ihnen.Wir haben 8 Tage safari bei euch gemacht und die safaris war unglaublich,erlich gesagt,dass die safari sehr super war.Unser Reisebegleiter Hassan Spricht gut Deutsch und Fahrer war auch ok.Alle unterkuenfte waren auch Toll.Nachdem safari ,haetten wir Baden urlaub im Leisure Lodge in Diani Beach.Alles war wunderschoenes.Wir bedanken uns fuer die Super Safari von Big cats exploration safais.Zurzeit machen wir uns ein Werbung zum Unseren Freunden und Bekanten zu Hause in Germany
Kwaheri
Bernhard,Petra,Ulla& Helmut
Dusseldorf Germany
23rd April 2012
Bonjour Ami,
Thanks for your safari organization.The 5 days safari was good,Lodges also good,all staffs were good,Kilimanjaro and Mzima springs and Shetani Larva are no where to be found on the earth.Our English was sometimes problem but thanks to Big cats exploration safaris company for providing us with a Guide who speaks perfect French,he is Mashoud. We spent our Beach holiday at Ocean Villa,so nice
Thanks thanks Merci-
Laurent& Christine-
Toulousse France
2nd June 2012
Jambo Kenya!
Je profite de cette occasion pour dire bonjour équipe des BIG CATS EXPLORATION & SAFARIS.I suis écriture pour le compte des étudiants qui n'ont Camping safari de 14 jours au Kenya et Tanzania.We étaient un groupe de 16 étudiants de France.We étions tous heureux de vous avec votre Felix Organisation et vos tenaires pair aussi, les pilotes pour les deux parties étaient tous parfaits et notre Mashoud Guide parle French.He parfaite a un visage souriant, bon coup d'oeil, intelligent, serviable et très proviseur honest.Our, Claudia était très très heureux de l'entreprise arrangements.The cuisinier Mr.Saidi était si bon et il se réveillait toujours tôt le matin pour les préparatifs petit déjeuner avant que nous partions pour le jeu watch.We recommandons Big Cats exploration&safaris 99,8% pour la meilleure qualité de service et nous vous enverrons une bonne les commentaires des Routard.com il Africa.Pick et vous serez notre partenaire safaris en Afrique.
Frank-étudiant organisateur d'événements
Paris-France
22nd June 2012
Hello Big Cats Exploration Company
Thanks thanks for the nice cultural safari we did with you not even to forget the country and the people of Kenya.All the students,Teachers and leaders were happy about the programand our plan went in a good order according to our interests.We will reccommend your company to Tripadvisor .We are planning another vacation with different students.It was not easy to to satisfy a group of 36 pax.Still we say Thanks Felix for your experience and God will give you more power and long life.Hope to meet you again in future Felix.Please say hi to our driver James and Guide Steve.Bye Bye
Benedict- Co-ordinator
University Student-Glascow-Scotland UK
2012年6月23日
亲爱的费利克斯,
我们一组8名中国游客,我们预定在肯尼亚野生动物园和作为我们agents.We了通过迪拜,然后到内罗毕的航班,我们选择大型猫科动物勘探游猎,我们landet安全和公司的代表,开始了我们,我们将等待花了我们马赛Mara.We游猎在Keekorok Lodge.Wondeful游猎两个通宵,然后到纳库鲁湖,我们看到火烈鸟alot最后我们去的乞力马扎罗山和安博塞利太好see.We将发送TripAdvisor和我们的一些意见司机詹姆斯Kiptoo是如此good.Big猫勘探是最好的旅游公司。 感谢陶组长
上海 - 中国
Big cats exploration safaris
Best tour company